Investors are ignoring the arithmetic and evidence around inflation and have been conditioned to do so for the last four decades.
                                   Between a Rock and a Hard Place
              The Fed is between "a rock and hard place" right now because it's massive money printing operations, soaring inflation and very low interest rates do not go hand-in-hand. 
               Something has to give and it's inevitable that we face a Day of Reckoning for the economy and asset prices – including real estate.
              At my October 23, 2021 seminar, I'll be talking about what we can expect moving forward – and the best things that investors can do to profit from future events.
                                  What to Buy – and When to Buy
               Real estate investors must do the unpopular thing if they want to out-perform as an investor.
               How do you do this?
               You buy your straw hats in the winter when nobody wants them – and you sell them in the summer when everybody wants them.
                         The Battle for Investment Survival ~ Charles Darwin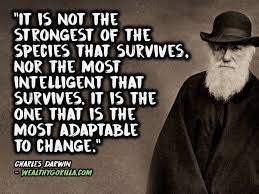 "Adjust, adjust, adjust" is not only how you survive as a real estate investor – but it's how to excel. 
              Whether it's real estate, stocks, bonds, or gold, do your best to be in the right investment at the right time.   You can't control the direction of the wind but you can adjust your sails.
               To learn how to adjust your investment portfolio for the changing times ahead, why don't you join me for my October 23, 2021 seminar?